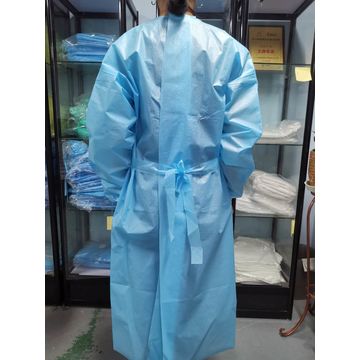 Disposable Isolation Gown, Premium Thickness PP, 20 gsm, 115X137 cm, Elastic cuff with ties; Non-sterile, needle sewing.
MOQ : 100 000 pcs, direct factory delivery
Usage: Food Processing, Medical, Haircut, Examination, Hotel, Restaurant, Hospital Lab, Beauty Salon, etc.
Colors of Disposable surgical PP Gown : white, blue, red, yellow
Weight of Disposable surgical PP Gown: 65g
Material: 100% PP
Design of Disposable surgical PP Gown: Smooth/Embossed Surface /Thumb Loop/Elastic
Features :Fluid-resistant
Available AAMI levels, as well : AAMI 1, 2 or 3
Certificates: CE and FDA, on request
Packing details: 10 pcs in bag, 100 pcs in carton, 9 kg, 52 x 38 x 34 cm
The best way to ship gowns is by sea, the shipping cost per item is less than 0.08/pc.